Stages d'été
Yoga des Bains, 31, rue des Bains
du lundi 9 au jeudi 12 juillet de 18h00 à 20h00

du lundi 16 juillet au jeudi 19 août de 10h00 à 12h00

du lundi 16 juillet au jeudi 19 août de 18h00 à 20h00
Prix : 4 jours : 130 / 3 jours : 100 / 2 jours : 75 / 1 jour : 40 / 2 stages : 240

Min. 6 personnes, max. 12

Envoyez un email pour vous inscrire.

Du lundi 24 au mercredi 26 septembre 2018
Du mardi 2 au vendredi 5 Octobre 2018
Stage de yoga Iyengar avec Sri Arun H.S. (Arunji), enseignant Senior Advanced (Bangalore, India)
Yoga des Bains, 31, rue des Bains, Genève
Enseignement en anglais sans traduction
Envoyez un email pour vous inscrire.
For the past three and a half decades, Sri H.S.Arun has practised and taught the art and science of Yoga. When he was teaching at a Yoga centre in Bangalore in the year 1978 he met Guruji Yogacharya Dr. B.K.S.Iyengar. Since then there was no looking back. Arunji became Guruji's disciple and has been one of the very few Indians to attend several intensive classes which were held at the Iyengar Institute in Pune. He also honed his practice with both Prashantji and Geetaji Iyengar. Over the years, Arunji has developed his own way of sharing what he has learnt from his gurus and through his own extensive practice.
In the past 25 years, thousands of students have come to learn from him at Prashant Yogashraya, his yoga centre in Bangalore, where he teaches along with his wife, Srimathaji. Prashant Yogashraya is an institution that keeps its doors open to all, and all the year round. Since 2000, Arunji has been travelling extensively to many parts of the world
He has a large student following in South America – in Chile, Bolivia, Argentina, Peru, Brazil, and Venezuela. He has also been invited repeatedly to teach in the United States of America, and spends several months each year sharing his knowledge from coast to coast. He has also travelled to places like Israel and Hong Kong. Arunji's students find his teaching simple, direct and effective. His quick wit and humour lend a special positive energy to his classes. The endless variety in his sequences, based on the solid foundation of the Iyengar tradition allows students to explore deeply the many facets of yoga.
The idea of teaching and applying Iyengar Yoga to meet and suit each individual's unique needs appealed to him immensely. He knew then with certainity that Yoga has become his true vocation in his life. He decided to spread and teach Yoga to common people.

Du 29 au 31 mars 2019
Workshop with Senior teacher
Jaki Nett (San Francisco, USA)
91, rue de la Servette, Genève

Teaching in English without translation
Send an email to register.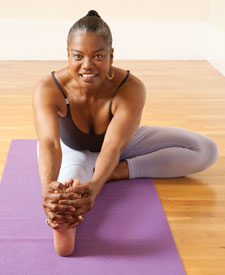 Jaki Nett, an accomplished Sr. level certified Iyengar instructor from California, USA. She is very present in her teaching style and accessible in her personality. She melds her knowledge of yoga and functional anatomy into a methodical teaching style.